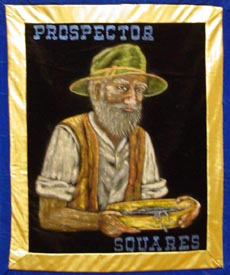 The Prospector Squares Plus Club in Fairbanks, Alaska dances at the Farthest North Square and Round Dance Center located in Pioneer Park (formerly Alaskaland).
The Club dances Tuesday evenings from 7:30 to 9:30PM During the summer we have guest caller Dave Smith from Delta Junction. Dave calls to the floor with both Mainstream and Plus level square dancing for the club members and their guests. During Fall, Winter, and Spring dance days we utilize Skype to "bring" guest callers to our floor from various nationwide callers. Occasionally, in-between square dancing, we have a round dance tip with recorded music.
We enjoy having summer visitors at our dances. While in Fairbanks they are encouraged to join in the fun of square dancing at the Farthest North Square and Round Dance Center. Club members who have experienced life in Alaska are happy to share ideas and "tips" on enjoying your visit to Fairbanks.
Click here to view the current Dance Schedule. With so many of our dancers' work and play schedules fluctuating here in Alaska, we recommend that you call or email us first to verify whether a dance will be held that night. We invite you to make square dancing a fun and enjoyable year-round activity in the Interior of Alaska by joining us in a square!
Square em' up!

A Short History of the Club
The Prospector Squares was formed in April 1982 and they began dancing at the Farthest North Square and Round Dance Center when it opened at Alaskaland, now Pioneer Park. Since its inception, the Prospector Squares have grown with the culture bringing the club into modern square dancing.
In keeping with the "Square Dance Pledge" those who came before us who strived diligently to create and maintain this club. We honor their efforts by the continuance of the Prospector Squares club both now and for the enjoyment of future generations of dancers.
Square Dance Pledge
With all my ability, I will do my best to help keep square dancing the enjoyable, wholesome, friendly and inspiring activity I know it to be.
This I pledge in the sincere desire that it may grow naturally and unexploited in the coming years and be available to all those who seek the opportunity for friendship, fun and harmony through square dancing.
Contact Us
It is recommended that you call 907-590-8215 or email boynton.april@gmail.com if you plan on attending one of our dances to ensure that there were not any cancellations of dance dates. When emailing please put "Prospector Squares" in the subject line so that your communication does not go to the spam bin.