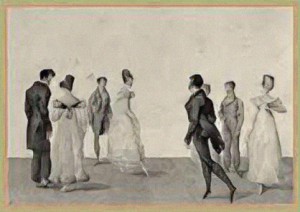 Country Dances have nothing to do with American Western style dancing. They are dances descended from the dances of Medieval & Renaissance England, with two lines of men and women facing each other. Each English village had a favorite dance, and in 1650 the owner of a small Music Shoppe in London traveled around the English villages collecting dances from each village and published them. Courtiers, Kings & Queens quickly adopted the style of dance as their own, and at Court they were able to pretend to be a regular citizen even though the dances were increasingly done in fancy ballrooms and in private Castles & Mansions.


Over a period of 250 years the dances added variety and complexity, and Classical composers such as Handel, Mozart, and Purcell wrote extraordinary music for new dances. Everyone from the nobility to the middle-class merchants imitated the royal family by dancing Country Dances in their homes and in public Assembly Rooms. Country Dancing became a favorite pastime in England that lasted for over 200 years. Depending on which era you lived in, it was possible to dance in a longways line of couples that might include King Charles, Queen Anne, Jane Austen, and in America, George Washington and Thomas Jefferson. People from all classes of society mixed on the dance floor and that is still the case today. In addition to the American Colonists, the Scots' and the French developed their own similar dance styles.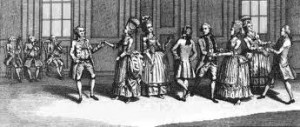 In the era before mass media, social dances events were the place you went to see your friends, make acquaintances, & socialize, and most importantly where single people could meet other eligible single people with the goal of finding a mate. Some Country Dances were lively so that young dancers could show off their fancy dancing skills, while other dances were slow & romantic so that anyone could linger in the view of an attractive person. Making new friends and seeing old friends is still the case today, and many people have met a future mate on the Ballroom dance floor. Country Dancing was also an excellent form of exercise which was especially important for people who couldn't easily exercise in the Winter – which is also still the case today.
Fairbanks has the only English Country Dance Group in Alaska that meets regularly, and we also have the only Band that plays specifically for English Country Dancing. We are part of a network of dance groups that covers much of the Lower 48. We offer evening Classes and Social Dances with live music by our local band from September through April at the Dance Hall in Pioneer Park. People from their mid-teens to seniors are welcome to attend. There is a small charge just to cover our expenses. For our current schedule, please email: dennisrogers55@icloud.com or 907-378-1066.